Mentioned in this Article:
Want To Buy An Investment Apartment To Rent Out Here's What You Need To Know
Conventional wisdom holds that New York real estate is always a good investment. But what if you don't intend to live in it and want to play landlord instead? Adina Azarian of Adina Equities and Julia Hoagland of Compass tell you everything you need to know about buying an apartment and renting it out in this week's Buy Curious.

The proposition:

I want to buy a single apartment for investment property. Where should I look? What type of unit is best?

The reality:

In a city in which the vast majority of people rent rather than own, purchasing an investment property is just good business, says Compass' Hoagland. Pros she cites include a "rarity of assets (since two-thirds of Manhattan housing stock is rental and 60 percent of the remaining is co-op)," "a robust local job market," which means that a lot of those renters will actually be able pay their rent, and low vacancy rates ("under 5 percent for over six decades," she says. (But as we recently reported, the rental market has, however, slowed its pace, relying on concessions to make transactions happen.)

What else should you know before embarking on a search for an investment property? Read on:

Where should you look?
"I personally recommend the tried-and-true neighborhoods," says Azarian of Adina Equities, listing Midtown East, Tribeca, Soho and the Upper East Side as some of her favorites. "You know what you're getting into and there is less risk involved since there will always be people looking in prime classic Manhattan neighborhoods" like those.

Hoagland agrees, adding that areas seeing growth (like north Harlem and Inwood) tend to provide higher cap rates and appreciation potential, whereas coveted prime downtown Manhattan areas (like the West Village and Tribeca) will provide downside/volatility protection. In other words, if you're looking for a sure thing, go with a known entity. That means, however, understandably paying higher prices.

But if you're willing to explore beyond these luxe locales, look into a less established area. You'll probably collect lower rent at first, but you may be pleasantly surprised by how much you'll earn when the neighborhood takes off.

How do you identify such emerging areas? Here's what to look for:

Is there increased investment in infrastructure, such as expanded transit options, a new school, or renovated parks?
Is there lots of constructions and conversions happening? Developers spend lots of money getting intel on where to invest, and you can capitalize on their findings
Is DOM (days on market) declining? In other words, are most homes being scooped up after just a scant few days on the market?
If all or most of these are true, chances are, a neighborhood is poised to break out.

Condos or co-ops? Which work best?
Although co-ops are typically more affordable than condos, they're not ideal in this situation. "Co-ops are not options for pure investors as they generally don't allow subletting from day one and generally have limits on the maximum amount of time that the unit can be rented out when they do allow it," says Hoagland. Usually, that maximum time is two years.

Most co-ops "are not generally amenable to investors," she says. "And even if one were to find one that was, they can always change the rules, so I don't recommend them for investors."

In addition, there's usually a lengthy approval process that calls for financial disclosures, character references and a (potentially terrifying) interview with the co-op's board. So even if they did allow you to rent the place out immediately after purchase, you might not want to suffer the indignity of it all—especially when you don't even plan on living there.

Purchasing a condo, on the other hand, doesn't require board approval, and you can generally rent it out without asking anyone else's permission or having to live in it for a period of time first. But yes, they are usually more expensive than co-ops.

Usually a listing will say whether an apartment is "investor-friendly." If not, certainly ask the agent.

What size unit works best for an investment apartment?
"Apartments with one- or two-bedrooms are typically the easiest to rent," says Hoagland, noting that "prospective tenants looking for smaller units make up a larger sector of the tenant population."

Bigger apartments "will of course command a higher price," says Hoagland, "but their vacancy periods can be longer as there are fewer tenants shopping for larger units."

That said, in her experience, "this tenant mix tends to be less transient" because they have families and are more likely to want to settle somewhere for a while, "so once a tenant is secured they are more likely to stay for multiple years."

Azarian is also a fan of studios as investment units. "Studios are in very high demand and are easy to rent to professional tenants," she says. (However, the studio market can be very competitive since it's on the low end of the market where starter buyers begin, so you need to be prepared to deal with that.)

Additionally, she loves "the idea of buying a few studios, rather than [a single] one-, two- or three-bedroom apartment as an investment. It spreads your risk around and generally you can count on a nice rental income."

Will you be able to live off the rental income alone?
Probably not if you're buying just a single apartment, say our experts. "Most investors are picking up one to two apartments," says Azarian, "so it is more of a second income opportunity. You have to go big with quantity in a rental portfolio or get more into buying and flipping to think of it as a quit-your-day-job thing.

If you collect a portfolio of say 15 apartments and rent them out—studios, one-bedrooms and two-bedrooms—you can make a six-figure income from your investments. You need a fairly large portfolio to get to the six figures, however."

Adds Hoagland, "If one is able to purchase an entire apartment building… the income may be more conducive to that of a career."

As to how much you'll make each month, Hoagland says that "rental income less expenses—including mortgage, common charges and taxes—equals net income." So make sure you charge enough rent to cover those and still make a bit of money on top of that.

Finally, only you can be sure that you'll be able to handle the headaches of being somebody else's landlord. Because you need to have a solution for pretty much every problem that might arise—and not everybody can cope with the responsibility. "You need to find and vet tenants, collect the rent and deal with any issues your tenant has with the unit," says Hoagland. So try and figure out what you'd do in a slew of possible situations—What if the building's boiler breaks and there's no heat? What if the tenant discovers black mold?—so that quick action can be taken to rectify anything and everything that comes up.

Check out these listings which are ripe for buying and renting out: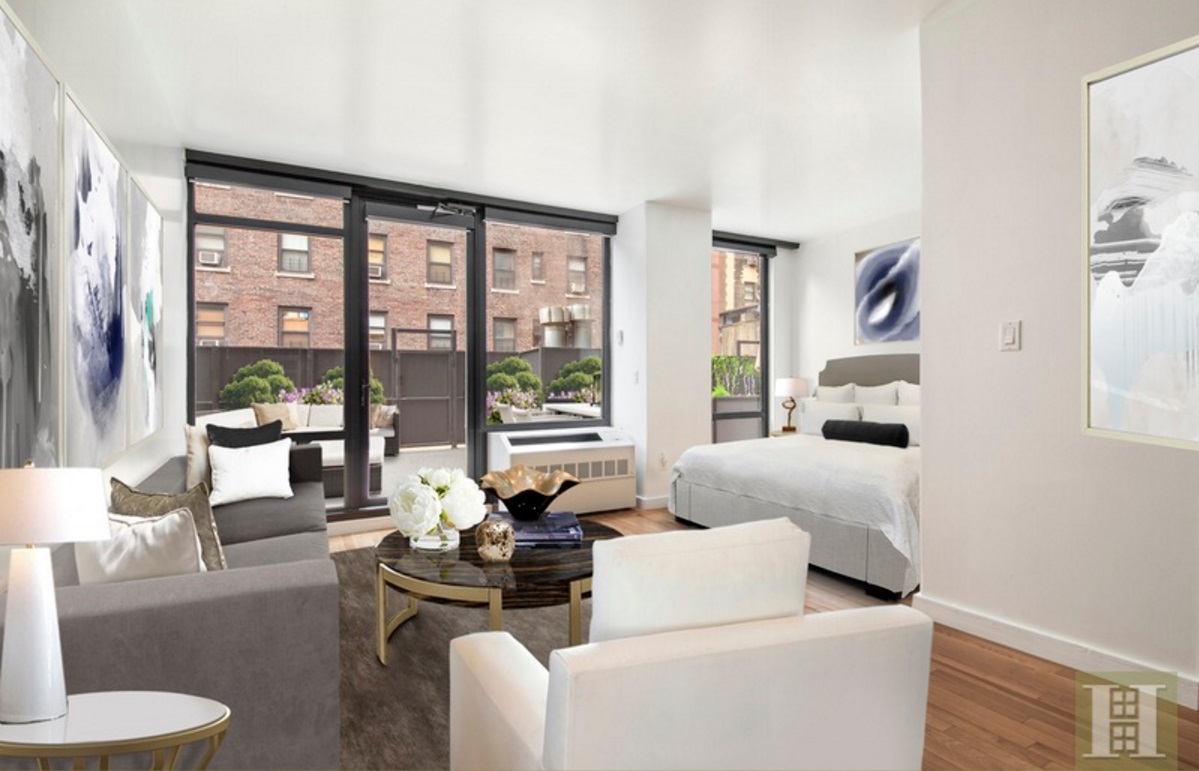 Gramercy Park studio, one-bathroom condo, $819,000: This alcove studio at 148 East 24th Street between Third and Lexington Avenues offers white oak hardwood floors, central a/c, a washer/dryer hook-up and floor-to-ceiling double insulated windows with cordless custom window shades. The building has a 24-hour attended lobby, a live-in super, a gym, a landscaped common roof terrace and bike storage. Common charges are $827 a month and taxes are $448 a month.

Thursday, January 19, 2017